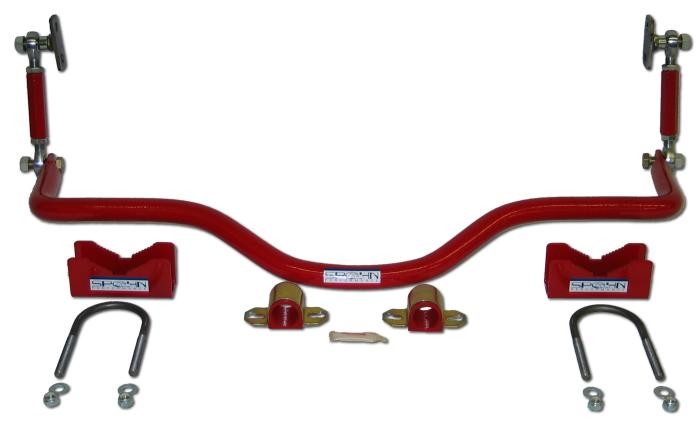 Spohn 82-02 Camaro/Firebird Pro Series Rear Drag Sway Bar
Leaving the line sideways? Car looks like the Leaning Tower of Pisa when you launch?

Our Pro-Series rear anti-roll bar eliminates torque steer and body roll during hard launches and will drastically improve consistency and stability going down the track.

Sway bar will work with any stock or aftermarket rear end housing and will clear all aftermarket exhausts and suspension components.

Our bar stock is 1 5/16" 4140 heat treated spring grade chrome moly steel. The bar is entirely heat formed and coined as one piece. We put our bar through this extensive process to insure that the final product will be the strongest, most durable bar on the market, and that it will be the most resistant to form alteration. Most aftermarket anti-roll bars are cold-bent mild steel making them weaker at the bends, and more vulnerable to shape alteration.

Spherical rod ended adjustable end links allow you to pre-load your rear suspension for straight launches. We exclusively use QA1 Endura 2000 series 5/8" spherical rod ends with TeflonŽ/KevlarŽ self lubricating race. These are the highest quality rod ends on the market, very expensive, but NO rattles!

Entire kit is a bolt in installation using existing factory mounting locations. We do recommend welding the upper end link mounts to the subframe. You can completely install the kit yourself, and drive the car to a shop to have the little bit of welding completed.

Specifications:


1 5/16" solid heat treated spring grade 4140 chrome moly sway bar
15/16" x .156" wall hex steel extreme duty end link adjusters 5/8" QA1 chrome-moly spherical rod ends with TeflonŽ/KevlarŽ self lubricating race (Endura 2000 series # XMR/XML10)
3/16" CNC laser cut and formed mounting saddles with grip-lock teeth (no welding onto the rear required).
Heavy duty 7/16" u-bolts
1/4" laser cut upper end link mounts bolt to the factory upper end link mounting holes in the subframe (welding recommended after installation)
Prothane 1 5/16" polyurethane bushings and silicone grease
Powder coated in bright red or gloss black
Specify your axle tube diameter and color choice below.
Applications:
1982-2002 Camaro/Firebird